Vol. 119 No. 7/8 (2023)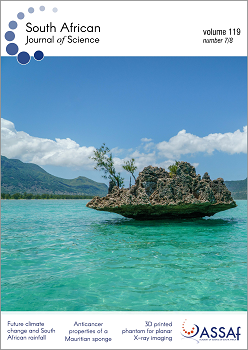 About the cover:
The Republic of Mauritius is a maritime country with a vast potential for marine organisms that are not yet fully utilised as sources of bioactive substances. The exclusive economic zone of Mauritius harbours a diverse assemblage of Neopetrosia species and thus opportunity for the discovery of new bioactive agents. In their article, Beesoo et al. report on the promising anticancer activity of extracts derived from the marine sponge Neopetrosia exigua, collected from Mauritian waters.
Full online issue available here.