Vol. 117 No. 11/12 (2021)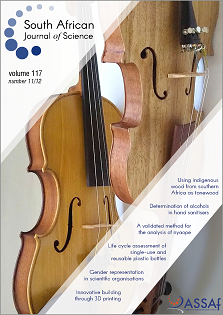 About the cover:
Two African violins (photo: Martina Meincken). Meincken and colleagues show that several southern African wood species are suitable to be used as tonewoods and that the sound produced with such a violin is – although somewhat different – of high quality, comparable to the sound quality of violins made traditionally from spruce and maple wood. The violin on the left was made from yellowwood and sapele (by Hannes Jacobs) and the violin on the right was made from blackwood, hardpear and sapele (in the Department of Forest and Wood Science at Stellenbosch University with the help of Hadley Dumini).
Full online issue available here.