Vol. 117 No. 9/10 (2021)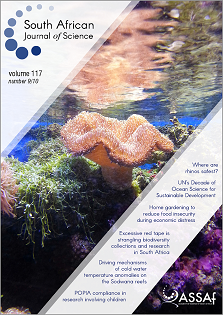 About the cover:
Colourful corals. Corals become stressed when exposed to elevated temperatures for extended periods and bleaching can occur. Wells and colleagues analyse temperature measurements taken between 1994 and 2015 on Nine Mile Reef at Sodwana to elucidate the driving mechanisms of the temperature anomalies around Sodwana. Sodwana experiences short-term temperature fluctuations that may provide relief from coral bleaching and be crucial in the future survival of the Sodwana reef system.
Full online issue available here.